I finally did a trip on Mike Ball's Spoilsport boat.
I was the 'Far Northern Reef Exploratory' trip, and although I would not say it was very 'exploritory', it was a great trip. Service was great, the boat was clean and neat, and the staff were friendly and helpful.
We traveled 1223 Kilometres (see the track below) over 7 days and I did 22 of the 24 dives. With some Covid-19 cancelations there were 20 guests and 12 crew on board.
As I had not been using my camera much in the last 2 years I did not have any great photos, I need to relearn my lighting skills.
I did put up a few here (click on image):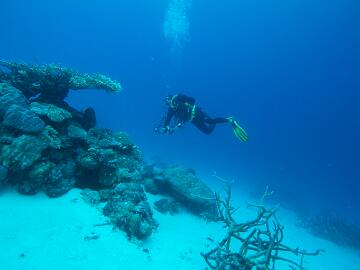 Here are the links to the sites we dived in the Allan Coral Alas:
Goggle Gardens close
Goggle Gardens overview

Lighthouse Bommbie close
Lighthouse Bommbie overview

Half Way close
Half Way overview

North Horn close
North Horn overview

Creech Reef close
Creech Reef overview

Green Beret close
Green Beret overview

Pirates Cove close
Pirates Cove overview

Snake Pit close
Snake Pit overview

Cod Hole close
Cod Hole overview

Steves Bombie close
Steves Bombie overview

Flare Point close
Flare Point overview