I got the chance to make the trip to Heron Island research station with Chris Roelfsema. The research station has a policy that does not allow kids to visit the station, so we stayed at the resort and just used the research facilities.
Pictures here (click on image):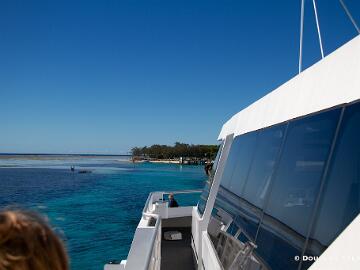 We drove to Gladstone on Friday and spent the night in a motel. While en route we got a call that the desalination plant had failed at the resort so they said we could not stay. After about an hour we got the ok to go anyway, but that there would be water restrictions. The research station has its own desalination plant, so we thought could always shower there.
Saturday we took the ferry over to Heron. The crossing was very calm and took 2 hours. Once on the island we had an induction into the station.
Sunday Chris, Diana, Mitch and I got out to dive three transects on the south side of the island. The weather was perfect on Sunday, no wind at all, the sea was like a mill pond. We had whales pass 50 meters away as well. The sunsets here are fantastic, with many people gathering at the harbour to watch.
On Sunday night the wind picked up which meant that the trip out on Monday morning was canned. Chris and Mitch did a snorkel transecting after breakfast and we ended up getting 3 transects done on the north side of the reef in the afternoon.
Tuesday Diana and I did a Reef Check snorkel transect on Research Station Reef and in the afternoon Chris and I dived north side and entrance sites doing photo transects and Coral watch.
Wednesday Diana and I did Shark Bay Reef Check transect and in the afternoon Chris and I dived Harry's Bommie and Heron Bommie, with Chris doing spectrometer dive and I took 360 photos of bommies for Javier's 3D modelling software.
Thursday Diana and I did Jetty Reef Reef Check transect but in the afternoon there was no dive as the winds were to high.
We Caught the ferry back on Friday, as the winds were forcast to stay high for the next few days. The ferry trip was a little more exciting in the big seas!